Traveling to Täby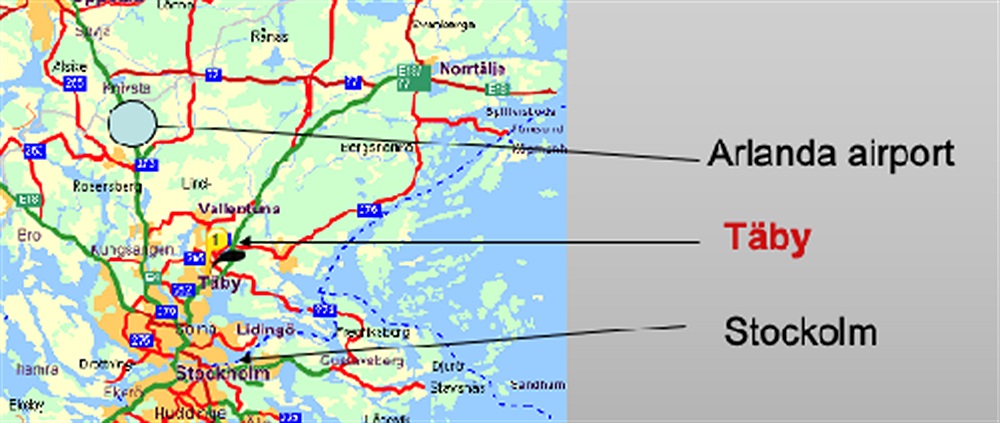 For flying in there are 2 airports to Stockholm of which Arlanda and Bromma are the main city airports within 25 minutes by car from Täby. Nykoping (Skavsta) and Vasteras are alternatives at ca. 70 minutes away by car. Buses and trains are options of course but there are no direct links to Täby.
There are several options for getting to Täby; public transport (Train, Bus, Subway, Tram), Taxi (make sure it's official Taxi - there are special lanes at the Taxi stop and ALWAYS get a firm quote first), Uber, Bolt. Price may vary between 450-650 sek but not more than that.
Link to SL The Public Transportation of Stockholm, please look here: https://sl.se/en/in-english.
For travelers arriving Arlanda airport there is a high speed train to Stockholm city and then the above mentioned options.
Cheapest option would be the Airport Bus to Stockholm than public transport from Stockholm to Täby. The Scandic Hotel is walking distance from the "Roslags Näsby Trafikplats" bus stop and a litter further walk from the "Roslags Näsby" train stop. Please check out https://sl.se/en/in-english for more info.
The local train from Stockholm to Täby is called

"Roslagsbanan".
TRAVELING IN LARGE GROUPS
If you're traveling in a large group - please let us know via info@tangsoodo.se as we can help you see if there's a group transport option.