WELCOME WTSDA MEMBERS!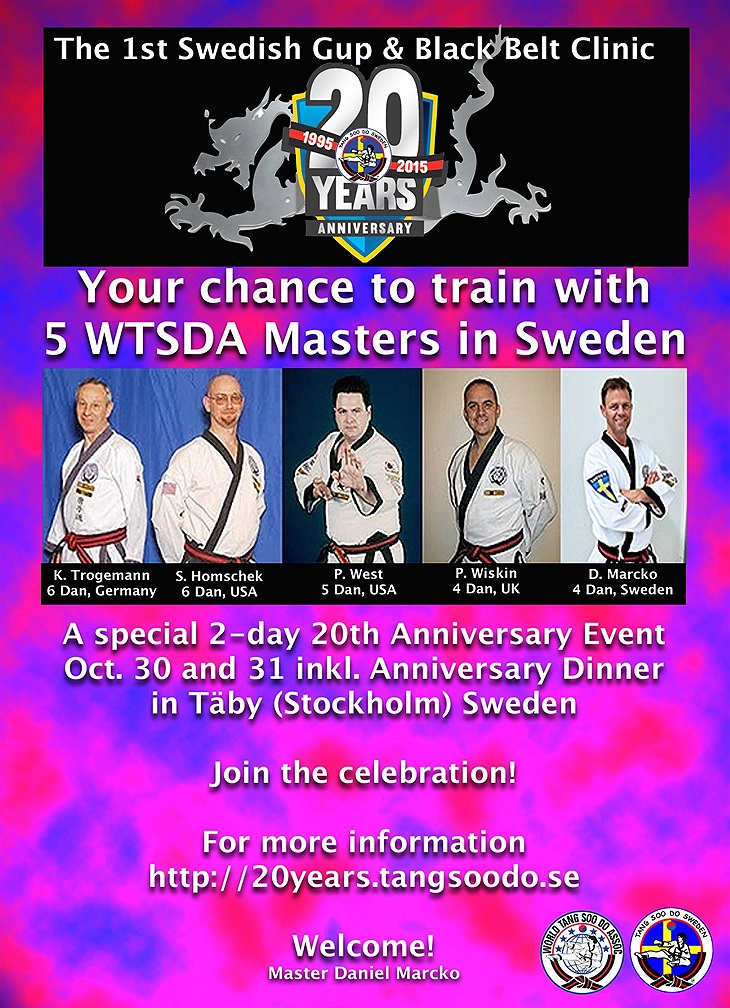 Dear fellow members of the WTSDA,

We are pleased to invite you to Sweden's first International Clinic as part of Tang Soo Do Sweden's 20th Anniversary Celebrations.

We are extremely pleased to be able to offer you an accomplished mix of noteable Master Instructors to share their vast TSD knowledge & skills with you on this very special occaision. You will be warmly welcomed by our rapidly growing local Swedish organization and our participating members. The first ever Swedish Gup & International Black Belt Clinic will be held on Oct. 30th & 31st in Täby, Sweden (just 20 min. N.E. of Stockholm).

We hope that you are able to join us for both days of the Training Clinic & attend our festive Friday Evening 20th Anniversary Dinner. But, we have also arranged for a single Saturday Training Clinic for those of you with pressing time constraints.
Surrounding airports:
Stockholm's Arlanda International Airport (ARN) (located 30 min. north of our location)
Stockholm Bromma Airport (BMA) (Stockholm city airport and about 20 min. from our location)
Stockholm Skavsta Airport, (NYO). (Skavsta is located appr.1h &15 min south of Stockholm)
Stockholm Västerås Airport (VST) (Västerås is located appr.1h &15 min west of Stockholm) from where shuttle transfer busses are available to Stockholm. Our members will do their utmost to assist you in any way possible with local transportation assistance and/or other help you may require, so remember to keep us aware of your travel itineraries.
Lodging:
there is a Scandic Hotel in Täby
there are plenty of hotels in Stockholm
if you do not wish to stay in a hotel we may have members able to host you, let us now if this is an option you'd like.
Please help us celebrate Sweden's 20th Anniversary together with as many of you as possible and together experience the true SPIRIT of TANG SOO DO!
Price for clinic (charged in Sek currency, approx. euro value below)
the complete Friday & Saturday Training Clinic, including the 20 Year Anniversary Dinner package: 100 euros
Saturday's Training Clinic: 40 euros

Welcome! Master Daniel Marcko & TSD Sweden

Please sign up for either one or both days using the LINK HERE!


---