3-1 WIN AGAINST HYLTE/HALMSTAD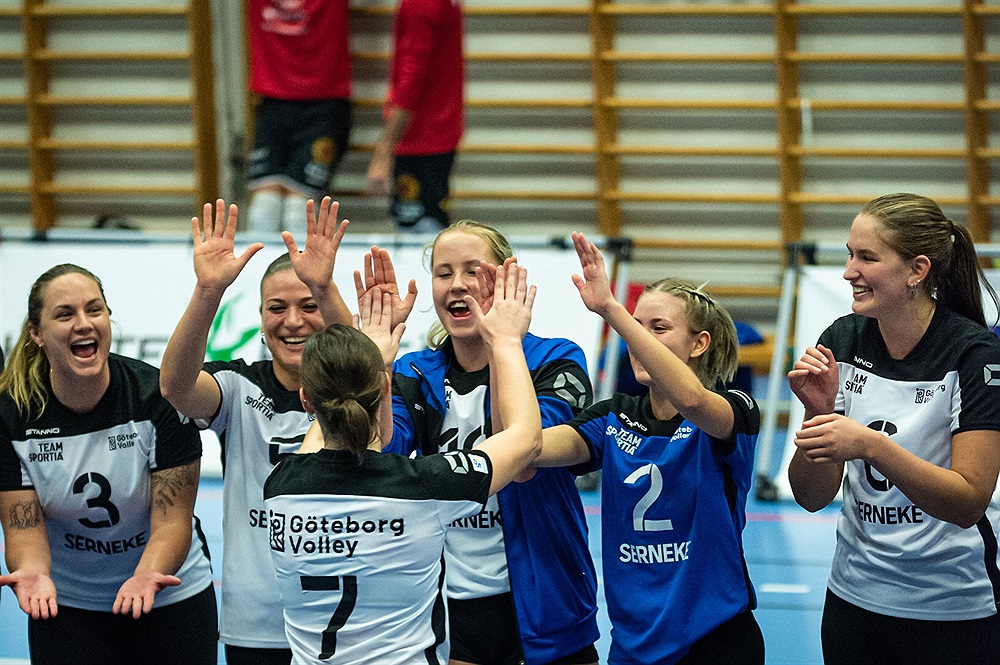 On Saturday it was time to travel south to Örnahallen and take on reigning champions, Hylte/Halmstad.
Many questions lay in the balance in preparation for this match. What line-up awaited us? Were there new recruits? Was Jonna Wasserfaller, Swedish national team middle-blocker back in action?
These questions were all soon answered. A newly recruited outside hitter: Tea Andric, Swedish national team representative Jonna Wasserfaller, along with opposite Jona Vigfusdottir were all suited up and ready to take the court.
The first set quickly swung in the favour of Göteborg. A strong start, established by an incredibly effective block/defense, led to a stable first set victory, 25-20.
The second set began as a continuation of the first, but Hylte/Halmstad seemed to have found their stride in the match. With a rise in unforced errors in both serve and attack from the side of Göteborg Volley, Hylte/Halmstad turned the tide of the second set. With a second set victory 17-25, Hylte/Halmstad were right back in it. The loss in the second set seemed to have awoken something within the Göteborg squad. With regained focus on what Göteborg Volley could decide, Göteborg returned to playing their game — well established block/defence and a diverse and quick offence. The 3rd set was Göteborg's: 25-15.
Hoping for continued success from the third set, Göteborg Volley met a Hylte/Halmstad team equally determined to win and push the match to a decider. Throughout the set, both sides fought for every ball! With a slight Göteborg Volley lead in the end of the set, Hylte/Halmstad rallied to save 3 match points but in the end Göteborg Volley took home the final point of the set, winning 25-21.
3 matches played - 3 matches won. All in all, we are proud of our team's performance. A shout-out to Taylor Bruns, the matches MVP for her significant contributions in offence, not only for setting dimes.
Next week we are off, but the following week we hope to see all of you when we take on Gislaved November 3rd, at home in Idrottshögskolan, Skånegatan 14 in Göteborg!
Be there!
---