Ironman Elsinore 70.3 European championships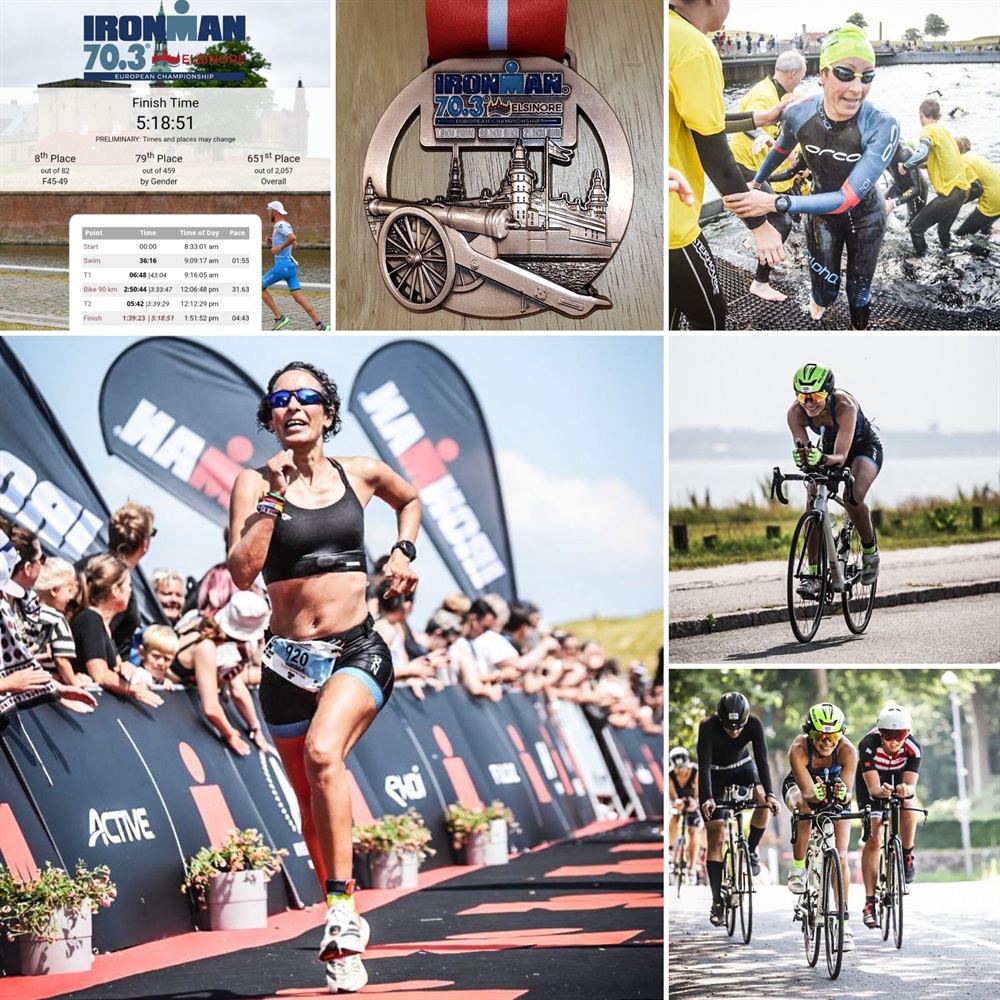 June 26, 2022 - Ironman Elsinore 70.3 European championships
About time to get this race over with...
Registered September 2019, postponed 2020, not possible to participate 2021, so here we go 2022...
2nd triathlon (since Ironman Hamburg 2019 was the first ever...) and first Ironman 70.3. Half the distance, meaning swim 1.9km, ride 90km, and run 21.1km.
The plan from 2019 was totally off, as the swim training since the beginning of the year was not much really (and only two OW swims), the bike was not at the level I hoped for (ie sub3-speed never showed up this year), and the run... well, I know how to run slow now...as it cannot be expected to race the same way after a swim and a ride, apparently...
Warm start. Got out of the water in 36min 16 (my plan and hope were 40/41 minutes, based on training done). Probably the jellyfish in the harbour helped to get some speed...
Transition ok, but still improvement possible.
The ride disappeared in 2hr 50... which is totally crazy!!! The first hour got 32km in, which never-ever happens during training. My reference ride during training was 90+km at an average of 27.7km/h... Loved the aeroposition from start to end. And let's be honest: passing people with crazy fancy expensive bikes is pretty cool (on my Crescent Giga Compact with aerobars on...).
Transition flew by. Even went back to take off my tri singlet...
And the run... Hot sun, light legs, the first lap disappeared in 4:37-pace. This would not hold I think. So I slowed down a bit... with a second lap at 4:38... During the final lap, there was more people on the run, and at the aid stations I had to zigzag, could not find the gels, had to stop to grab more sponges... but eventually got my third armband... meaning this was soon the end... Happy to see my final kilometer passing people at 4:25-pace... So yes, a halfmarathon at 1h39 after a swim and a bike ride... when the two halfmarathons of this year ended in 1h36... I will consider some warmup before my running races maybe...
5h18... When I thought I would likely be close to 6h, and was unsure about everything but my running abilities...
Ironman 70.3 European championships: 8th place in age category. 37th best running time. I'm definitely happy. And the body felt strangely not sore after the race. Training started again on Tuesday, bikefit on Wednesday...
Now time to get ready and double the whole thing...
---