Emelie uppmärksammas av Lesmills på internationella kvinnodagen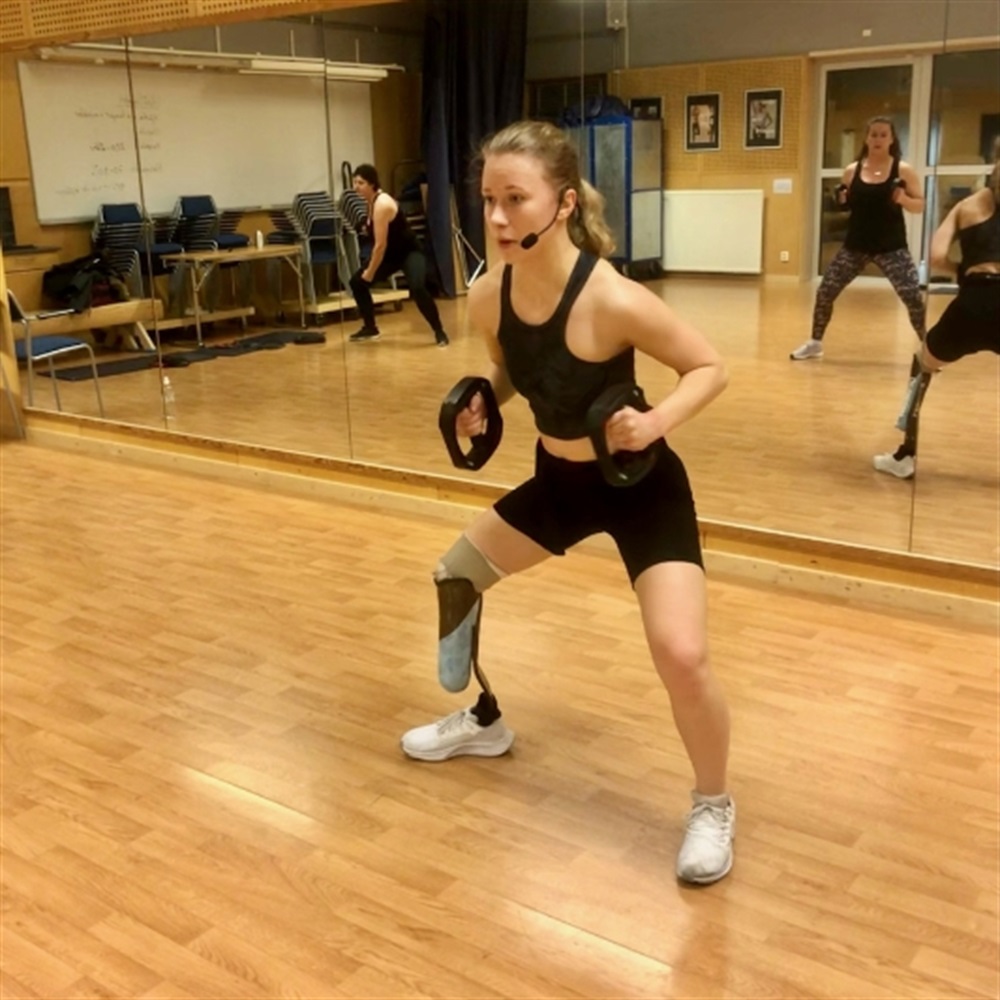 Emelie Roslund Grönlund (Sweden)
My relationship with exercise hasn't always been great. I was born with something called fibula hemimelia, meaning I was missing a fibula. My leg was also underdeveloped and shorter than the other, and because of the missing fibula I had a malformed ankle and foot. During my childhood it was hard to keep up physically with the other children and I hated everything to do with sports and exercise.
After several years of surgery, in November 2016 I made the decision to have my foot amputated. This significantly increased my ability to be more active, but I retained the mindset that exercise was boring, strenuous, had nothing to offer me. In PE we were given an assignment to come up with our own workout routine to do at home for a couple of weeks. I was unmotivated and didn't know what to do, so my mom encouraged me to accompany her to the group fitness classes she attended. At first I was skeptical, but decided to give it a go, with BODYPUMP™ and BODYSTEP™ being the first programs I tried. I fell in love with the workouts, the music, the overall feeling of being connected to the other participants and the Instructor. After the assignment ended I found myself wearing workout clothes all day, just waiting to attend evening classes.
After the pandemic, some of our Instructors retired and the gym manager asked if I wanted to become a teacher. At first I wasn't sure I'd be fit enough, but eventually decided to give it a go. I'd experienced first-hand how much impact Instructors can have on people, and thought it would be incredible if I could have a positive influence on people too. I decided to train in LES MILLS TONE™ as it's a really fun and inclusive program and has all the elements you need: strength, cardio, balance, coordination etc. while at the same time offering many alternatives.
My heart beats hard for the disabled community. People with disabilities are less physically active than the general population due to lack of availability, support and often a lack of self-confidence/efficacy. This is one of the reasons that disabled people generally have poorer health than the overall population, especially women. I think that it's really unfair and it doesn't have to be that way.
We need more representation. We often see disabled people in the Paralympics, or doing some impressive extreme sport, but not so much in everyday exercise/fitness situations. Not everyone wants to become an athlete, run a marathon or climb high mountains. Some people just want to find a way to get their body moving, get their heart rate up and improve their strength. I believe showing disabled people in a more everyday exercise context would be easier to relate to and would inspire others, disabled or not, to believe they can do it too.
To me, fairness in fitness means everybody should have the same opportunities to create and maintain a healthy lifestyle. It's important to embrace variety, make efforts to increase accessibility to the fitness industry, and ensure people feel like they belong.
---