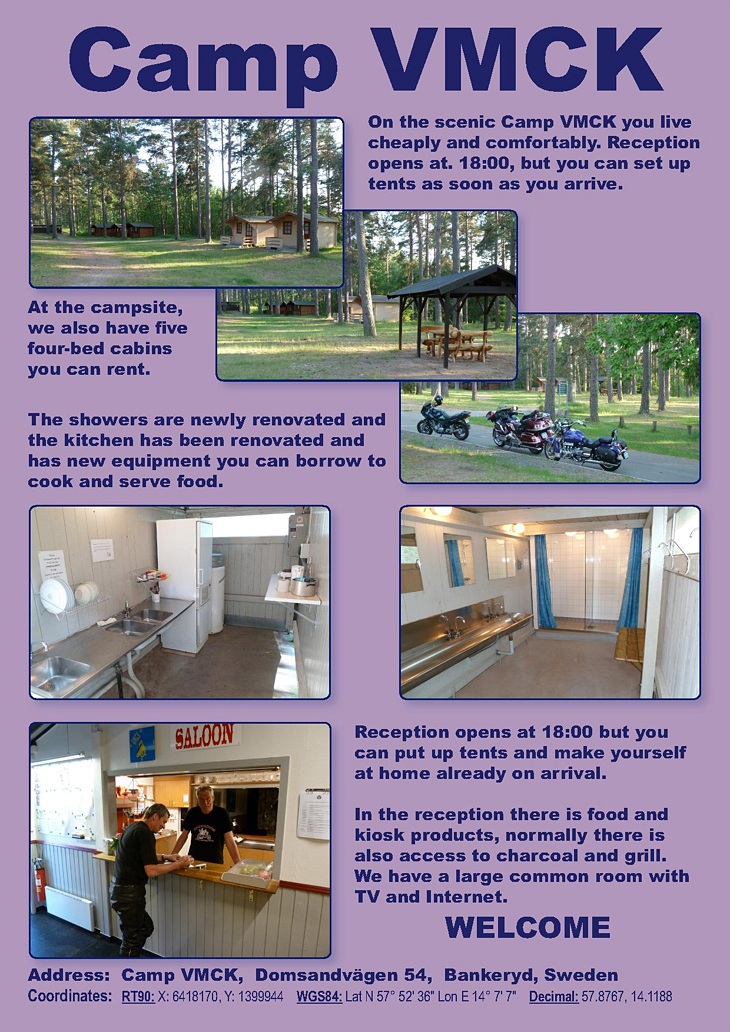 You do know that…
… there is a Motorcycle Camping in Jönköping!
Vätterbygdens MC-klubb is running a campsite at the clubhouse in Domsand, Bankeryd, the Camp VMCK.Clubmembers are manning the MC camping from the 1 st of June until the 31 st of August. During this time the clubhouse is open between 6 and 9 o'clock p.m. Please notice the campsite is closed during the Midsommer holidays!
From the camping to the beach in lake Vättern is it about 200 meters.
To the shoppingcentre in Bankeryd where you can find cashmachine and shops open in the evening, is it about 1,5 km. In Bankeryd there is also a swimmingpool with sauna.
At the camping you will find 5 cottages with heating for rent. There are toiletts and two separate washrooms with hot showers. There are also a small kitchen with microwaveoven and refrigerator where you can cook and do the dishes.
In the clubhouse we have magazines, tourist information and possibility to use internet.
Just outside the clubhouse VMCK has a miniature golf course and a barbequeplace. Beverages and a lot more can be bought at low prices in the clubhouse.
The camping fee is low.
Very Welcome!!!
Price for one night in SEK
(all prices includes access to kitchen, showers and toilettes)
Camping with own tent 70, - per person
Four-persons-cabin 400, -

During the campingseason you can call us and book cabins between 1800 and 2100
on telephone +46 (0)36-37 85 47